Devils' Row Premium Dry Gin
Sale price Price £22.00 Regular price £32.00 Unit price / per
Tax included.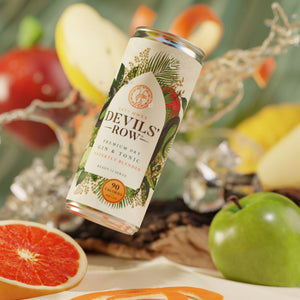 Devils' Row Gin & Tonic cans
Sale price Price £19.00 Regular price £35.00 Unit price / per
Tax included.
Thirteen Devilish Botanicals
A gin like no other. Crafted to exacting standards and using the finest ingredients from around the world to tantalise your taste buds.
Tasting Notes: Thirteen botanicals including grapefruit, citrus peels and a hint of the forbidden fruit craft this zesty, clean flavour.
Juniper Berries, Macedonia,
Coriander, Bulgaria
Angelica Root, France
Orrisroot, Italy
Orange Peel, Spain
Lemon Peel, Spain
Grapefruit Peels
Liquorice, Italy
Cassia bark, China
Nutmeg, India
Cinnamon, Seychelles
24 Hour Steeped Cucumber
The Forbidden Fruit
How it all started...
In the summer of MMXX Devils' Row was born, created by two friends Sam and Jason from Mile End in East London.
They wanted to create a premium well crafted dry gin like no other with a devilishly delicious flavour that would be impossible to resist.
Devils' Row is inspired by the eclectic personality of East London and its sinister Victorian past.
Sinner
THE GIN TO TEMPT ANY SINNER
THIRTEEN DEVILISH BOTANICALS